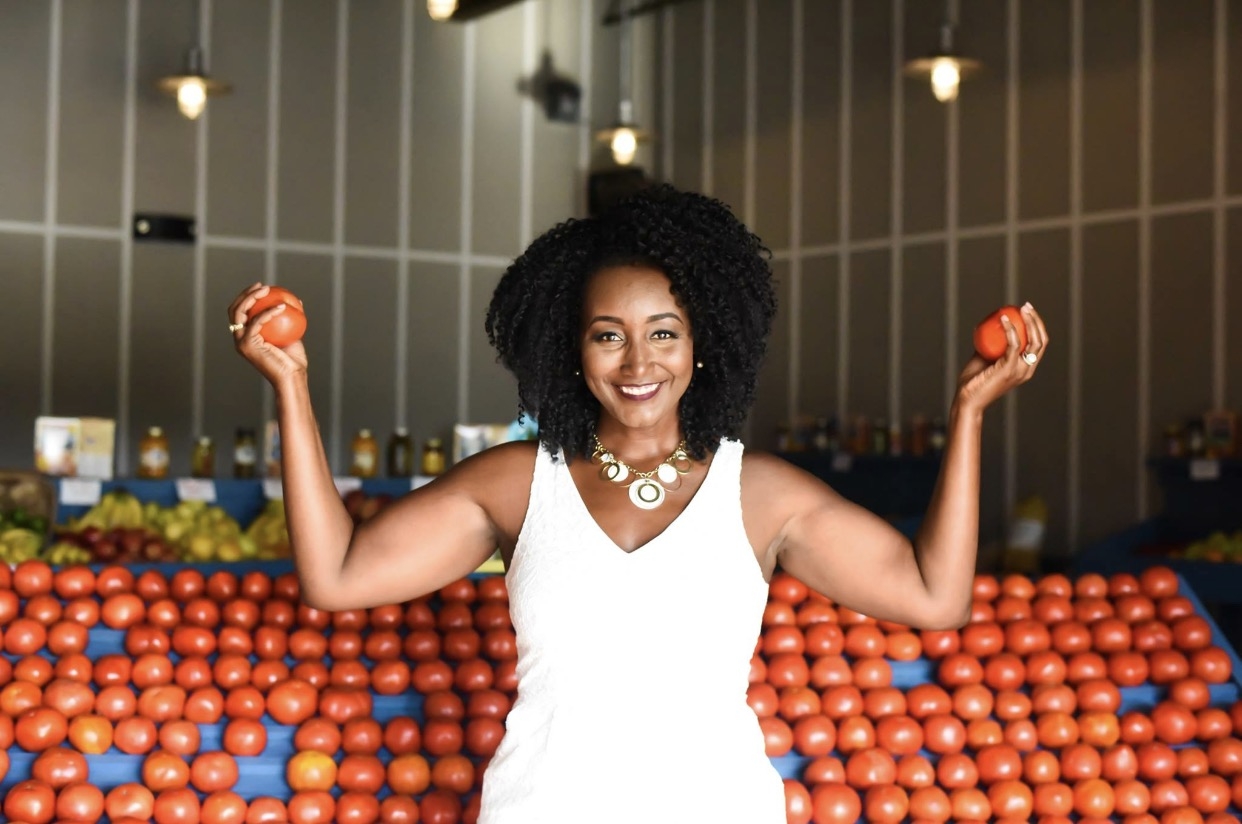 making your body a safe place to live
Schedule your appointment here and let's work together on your health goals!
This is NOT a diet!
The EBNL 90 Day Customized Cleanse Program takes a holistic approach designed to get you aligned Spiritually, Mentally and Physically allowing your body to perform at it's optimum ability in all facets. Once your mind and heart get aligned your body has no choice but to sprint after them! Losing healthy weight is a side effect that comes naturally through your discipline in the program, but is not the focal point of your journey. The true gift of EBNL is the energy, mental clarity and healing of ailments you have been dealing with longer than you have to. I am personally no longer hypoglycemic, no longer have painful menstrual periods or take medication for stress/anxiety and I have lost and maintained 55 lbs. and counting going on 5 years.
As an EBNL 90 Day Customized Program Client you will receive:
1 hour #EatYourMedicine consultation to discuss your current health goals, lifestyle and any medical conditions you have. This will provide what's necessary to build your customize detox plan.
12 weekly sessions of live holistic health education to discuss your progress and planning moving forward.
A customized meal plan for 20 days specific to your blood type and lifestyle.
Detailed grocery list and recipes for your meal plan.
A full body cleansing herbal tonic.
Vitamin/Herbal Supplements specific to your current conditions and goals.
Required reading and video materials to encourage you spiritually and increase you mentally in the knowledge of your lifestyle change.
Daily affirmations, assignments and several lifestyle habits you can incorporate right away.
Earthly Bodies Natural Living customized workbook, tote bag and pen.
In order to take control of your health you must take control of your mind and body. Without a changed mind your body will not succeed long term. Again this is not another diet or quick fix…it's a total change in your way of LIVING that will set you up for the healthier life you desire and deserve…the one Father GOD intended for us to have
The investment for this program is $900 and your health goals are worth it! Recurring payments available if needed.
EBNL is for everyone, however not everyone is ready for the path it will take you. If you just want to lose 5-10 lbs. "real quick" or just want to get into that dress or those pants for one occasion you are not ready. There are too many pills, powders and teas on the market that claim to give you those temporary results. But when your mind is receptive and you're ready to LIVE and shed yourself of unwanted thoughts and an unwanted way of life click the add to cart button below or Shop tab in the menu or click the Schedule Your Appointment tab at the top or bottom of this page to set up a discovery call with me so we can chat about your health goals. Let's get you on the road to real health and making your body a Spiritually, Mentally and Physically safe to LIVE.
Hear from EBNL program participants!
22 years later the "Player" became the "Coach"!
I was on FB one day and ran across a post from a former basketball player of mine. It was about Earthly Bodies Natural Living. I said" Hey! That's Yo-Yo!" I met Johanna when she enrolled in our school as a sophomore. She joined our basketball team and the rest is history. She played for me for 3 years and had the heart of a giant. She, along with her team-mates accomplished things that will always amaze me when I think back on it. Who would imagine that years later the "Player" would become the "Coach"! I reached out to Johanna because I was just spinning my wheels. I eat healthy for the most part but wasn't getting anywhere …..In the beginning, I was skeptical as to how "drinking certain veggies" based on my blood type (WTH) was going to make a difference. I am a 57, menopausal, insomniac, beer drinking, wing eating, watching football girl!!! BUT WOW!!!! I've lost 7 pounds and feel great. I haven't been able to exercise due to knee surgery in July which left me bone on bone right now, and I still lost weight!
The first few days were the hardest. I drink coffee every morning and had the worst migraine the 2-3 day. But by the 4th day it was gone. Bio-Coffee is amazing! The juices are good! (Except for celery juice, I hate celery but I drank it☺!) I feel great and I really am not as sluggish as I was! I am planning on keeping a few of my favorite juices as part of my diet! I still have a long way to go but now I am on the right track. I have my MA degree in Health Education and have been teaching Health for 30 years. But I was missing something and that something was Johanna! Will I become an all-out Vegetarian, I don't know, but for now I am continuing with the plan "Coach Johanna" has for me and my journey to a new healthy life style! THANK YOU!!!!
Jennifer S - Georgia
Determination at its finest! The end of Larry's detox has marked the beginning of a bright healthy life!
My customized plan was 20 Days long and I loss 17 lbs.! My lifetime journey now begins.
I was blessed the day that Johanna at Earthly Bodies was introduced into my life. She's been a God Sent!
She's a sweet inspiration, she motivates you, her knowledge and Customized Plan is effective and will transform your mind, body and soul into better health. If you follow the directions of the plan and do your part, stay motivated and disciplined you will succeed in getting the results you deserve.
In the back of my mind I knew I had to do something about caring more about my declining unhealthy body. What to do is usually the question you ask yourself and the question that keeps you from doing anything when the answer isn't staring you in the face. Johanna's Customized Plan was just the answer I needed. My tool box was empty but Johanna provided me with the resources and tools needed to be successful in this 20 day detox journey. Now the biggest Journey lies ahead. A lifetime Journey traveling the highways of my life but I am better equipped to complete the journey because of the resources, tools, patience, inspiration and motivation provided by Johanna! Thank you Johanna! May God continue to Bless you, your work and your family. I will continue to follow you on your website.
Sincerely,
Larry F – Alabama
______________________________________________________________________
Jay's skin was GLOWING on Day 10!
It was at a time in my life when my whole world seemed to be falling apart!! I literally became an expert so I thought at making the outside me appear to be all together, while the inner me was falling apart!!! It wouldn't be long before what was happening on the inside started showing up on the outside!! Suffering from breakouts in my skin, anxiety, bloating, tiredness the list goes on an on! Food had become the solution to my problems!! Instead of eating to live I was just living to eat!! I could not ignore it any longer I was in desperate need of help!! I didn't feel like playing the guessing games with doctors at my expense, so I prayed and sought the Lord continually about the matter!! One day while browsing Facebook I ran upon Johanna's post about her business (Earthly Bodies) that really grabbed my attention! We finally crossed each others paths and I saw firsthand the amazing transformation! I found out that what she spoke of in her blogs was not just another fad, but it was a real life change that she had made!! I began to believe that the answers to my problem as well as my prayers were in her program! I finally called her and told her that I wanted her help on this journey, she gave me information about her program. I will not lie to you and say it was easy, my body literally went through withdrawals! I felt like I think it was Peter in the bible who said "When I desire to do good, evil is always present "lol!! But Johanna kept me encouraged every step of the way! When I would get to busy with kids, husband, every day life that I would put off doing something she instructed me to do, she reminded me of the importance of making sure while taking care of everyone else, to take care of me!!! The videos she gave me that exposed the enemies behind all the foods that appeared to be all the right things, but were filled with all of the wrong things!! It helped me a lot. I made it through my 10 day detox 6 pounds lighter, skin brighter, inches off my waist, arms and hips!! By day 10 people were coming up to me telling me after just 10 days how I was glowing and how I looked amazing!! I thank God for what He is doing to save the lives of His people through Johanna (Earthly Bodies).I still have a ways to go! Im not where I need to be, but thanking God that I'm not where I used to be! Thank you Johanna for availing yourself to help others! Your labor of love is not in vain!!
Love Jay Q - Alabama
_______________________________________________________________________
The fog was lifted and with it 11.5 lbs. went away with Christovia's 10 day customized plan.
It was way past time for getting in shape and as long as I kept just thinking about it and not doing anything about it, I wasn't going to get back that body that I had been used to for several years. I hadn't worked out in about 3 years and my eating habits were already in the dumps. My gut was getting bigger, my back was carrying so much fat that I thought something was wrong besides the obvious and I definitely didn't like who I saw when I looked in the mirror. I began wearing clothes that were too big for me to hide my physique but it didn't work either because people started telling me how big I looked. My self confidence was taking a huge hit and I needed to stop the madness. Not to mention, My family was going through a tough crisis and my wife and daughter were looking to me for support. Something had to change and it had to start with me.
Then Earthly Bodies Natural Living happened. My wife, Johanna, helped me with changing the way that I thought about food, health, and our lifestyle. I was never skeptical of the program but of my commitment to the program. I needed something different and effective. The 10 day detox was customized for my blood type and the meals, snacks and desserts were so healthy and delicious that I couldn't believe what was happening. My first 3 days were tough but with the around the clock consultation and friendly reminders from EBNL, I was at day 10 feeling and looking healthier than I'd been in years. I was 11.5 lbs. lighter and since then I have been able to maintain a 7.5-8 lbs. weight loss to date but what I'm most appreciative of and excited about is the mental clarity and the many facts I've been able to gain and learn for myself. I'm in a much better position to help make my body a safe place to live.
Christovia R – Alabama
_______________________________________________________________________
Stella lost 8 lbs. in 10 days! But found even greater gifts in her EBNL plan.
I am grateful to Johanna at Earthly Bodies who inspired, motivated and educated me to treat my body well so it will be well.
I was allowing life to distract me from seeing I was on a path to destroying my body. I was filling it with garbage and expecting it to continue to function as God created it to function. There are many wonderful things I am expecting God to manifest in my life, but if I have no life in my body I will not be able to enjoy them. Focused on the negative things around me, job, family problems, and issues with the world I continued eating foolishly thinking I was consoling myself. As I said previously, what I was doing was destroying my body and my mind (foggy). I realized this after having consultations with Johanna with Earthly Bodies.
In the midst of this turmoil I called Johanna, I'd been following her blog over a year like people do. I guess it was entertainment because I wasn't doing anything with what I was reading. Contacting Johanna was the best thing I had done in a long time. She told me about her program. We talked about the body and how we need to be focused and intentional regarding keeping it clean and feeding it what it needs to function as God created it to function. She encouraged me to read several books to educate me (I was not an easy client). I wanted to start her program without reading the books and viewing the videos because I already knew it all or so I thought. She was patient and did not budge from her proven process to success. I surrendered, I wanted a change in my body and life. I wanted to wake up in the mornings feeling energized; not tired and worn as I had been.
I was able to start the program and my body was ready and eager and did not fight. My mind adjusted and lined up with my body's desire to be healthy. Eating clean vegetables, fruits, raw nuts and seeds has given me a new lease on life. I am not saying I am not going to eat meat again in my life, but I will continue to eat organic vegetables and fruits and the meat will be organic.
Now I wake up in the morning feeling refreshed and not tired. I receive many compliments on my skin. Thinking clearer and I have released much needed weight (I have more weight to release).
This has encouraged me to move forward with a 20 day detox of raw vegetables, fruits, nuts and seeds.
Drinking more water.
I am happy and grateful.
Stella A. – Texas
_______________________________________________________________________
My Mama loss 7 lbs in her initial 10 day detox, but has continued her journey with the tools and tips she learned from EBNL and was down 29 lbs. in 2 months. Still losing…
I have tried to lose weight off and on for years! As a matter of fact I have been losing the weight loss battle since 1998! I have tried every diet under the sun that came in my path unsuccessfully, sometimes doubling what I did lose. I have tried to do it on my own, thru reading an author's book and following the plan, giving up along the way or following a fitness program from TV (only to realize that if at all possible I could just eat the little bit of the food plan prescribed along with the heavy workout, it was no way not to lose even not exercising, but never satisfying).
I was offered a plan which constituted a new way of thinking whereby I eat to live, rather than live to eat, by my daughter-Johanna Earthly Ramos, that included a mindset change whereby I wasn't dieting (they all fail), but Healthy Eating, Drinking and Exercise as a Lifestyle, in July 2014 of which I heard her, but did not adhere and continued to try other things, still unsuccessfully! Thanks Be To FATHER GOD that my daughter never gave up on me!
Then it happened! Jan. 27, 2015, I took a look at myself in the mirror, did not like what I saw (how so out of shape I had gotten and disgusted about the amount of medicine I was on), that I made the decision to truly do something about the look of sick and unhealthy that I refused to let plague me any longer, because it wasn't the way FATHER GOD designed me to be!
On Jan. 28, 2015, I weighed in at 214 lbs. I've always heard health specialist say that I needed to walk 10,000 steps a day, outside of my job or daily regimen, so I decided to see what that would be. To my surprise it was a 5 mile walk! So I did it everyday from that point on! So excited on Feb. 4, 2015 that I told my daughter about it. She reminded me that I would also have to change my eating habits to effect the change in my body and health that I was looking for. So on that day, I decided to give her 10 Day Detox Plan a try. I started on Feb. 16, 2015 (still doing my daily 5 mile walk). I went from 214 lbs. to 207 lbs.. Implementing the tips of her plan after my 10 day detox ten days later, on the 26th of Feb., I weighed in at 195 lbs. and 2 dress sizes smaller, having lost several inches as well. I am now getting in clothes that still had tags on them that I have never been able to wear. Moving from a size 18 to a 14 and some size 12-14! I continued to maintain in this new Lifestyle of eating and decided on April 8, 2015 to do a 5 Day Detox under her supervision! To my surprise, along with my continued exercise regimen and healthy eating, I went from 195 to 185 and have been maintaining that weight to now. I have 29 down and 31 more pounds to lose and keep off from this point on! Thanks Johanna & Earthly Bodies Natural Living as I continue giving my body what it needs and it shining for me. I feel great and am hardly taking any medication that has been prescribed for me. And yes, I have my Check-ups and my doctor says I am looking and doing very good. PRAISE THE LORD! Obedience always brings the intended Blessing!
Jacque E – Louisiana